Year 7 and 8 pupils from Dunottar School in Reigate have beaten a marathon world record as one of a range of activities to raise money for Sport Relief.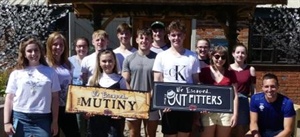 The school smashed and doubled its £1,000 fundraising target with the tally of money raised is currently running at £2,135.
In addition to the whole school ditching their uniforms and donning their own clothes for the day, Year 7 and 8 pupils have taken part in a range of sports activities to raise money for Sports Relief.
A group of twelve pupils has beaten the individual marathon world record, held by Dennis Kimetto at two hours, two minutes and 57 seconds. The Dunottar marathon runners completed the circuit as a continuous relay in sprints of 25 metres in two hours, zero minutes and twenty seconds.
While the sprinters were a runaway success, a group of eleven pupils collectively climbed the height of Mount Kilimanjaro. This involved a steep, grueling climb from the bottom of Dunottar's notorious bottom pitch to the school—250 times.
Other pupils brought their own bikes to school and cycled a 500m circuit of the school sixty times. The cumulative total of their ride was the equivalent of from Dunottar School to the Arc de Triomphe in Paris.
More eager youngsters ran 2,909 steps, the number of steps of Burj Khalifa in Dubai, the tallest tower in the world. The head teacher, Mrs Rowena Cole, cheered them up the flight of stairs that leads to her office–111 times.
Finally, a group of fifteen swimmers swam 62 kilometres between them, covering the distance between Dover to Calais…and almost back again.
In total, everyone's contribution was in excess of 400 kilometres, which is the distance from Earth to the International Space Station.
Simon Manning, head of boys' P.E., and Abi Welsh, head of Dunottar's lower school, were inspired by Sport Relief to add new challenges to the students' games lessons.
Simon Manning said: "We wanted to do a fundraising venture that pupils could really enjoy and also take a lot of pride from. Ultimately, it's about wanting the students to feel like they're making a difference to less fortunate people in the UK and across the world. We are absolutely amazed with the level of fundraising, support and donations that have come in from various friends, family and staff members."
Head teacher Rowena Cole commented: "'This is a great example of the creativity of our teachers in designing such a superb challenge and the energy of our pupils in taking them up on it. It was fantastic to see the enthusiasm and determination of our pupils as they walked, ran, cycled and swam for Sport Relief and also to know that they have raised an amount of money that will have significant impact."
To donate to Sport Relief, click: https://www.justgiving.com/dunottarschool/