Dunottar School's history department is thrilled to be the first in Surrey to be awarded the Historical Association Quality Mark.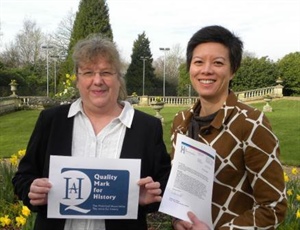 The Quality Mark (QM) is an award that recognises the excellence of history provision in a school. It assesses and values the history provision of the teachers, the department, the school and what is being offered to pupils.
Julie Boden, head of history at the Reigate based School, said: "As a Department, Mrs Stringer and I have been teaching for over 40 years between us. We decided to look for a challenge and also recognition for what we were doing well."
Commenting on the developments to the curriculum that have taken place since Dunottar joined the United Learning group, she added: "This was an opportunity to review where we were in our teaching of history and, being under a new leadership with new goals being set, it gave us a chance to reflect on how we wanted to develop the curriculum."
The department had to fulfil the requirements of a rigorous, regulated programme to achieve the Quality Mark, following a clear assessment procedure delivered by independent Historical Association appointed assessors. This included an assessor with OFSTED experience spending the day at Dunottar, scrutinising documentation, quizzing staff and students, and observing lessons.
In his final report, the assessor commented 'the relationships between staff and students are extremely positive. Teachers take a real interest in students' learning and progress, providing exceptional support outside of the classroom.' He added, 'in particular the individualised additional support provided by teachers has a profound impact on progress, and is undoubtedly important in enabling many students to exceed their academic targets.' He also commented that teachers 'harnessed their extensive and detailed subject knowledge to ensure that students were not only engaged, but very much enjoyed their history lessons'.
Now that the history department has a Silver Quality Mark, it is eligible to be reassessed within twelve months and upgraded to Gold.
Dunottar's head teacher, Rowena Cole, commented: "I was delighted, but not surprised, to learn that our history department has been awarded a Silver Quality Mark by the Historical Association. This was a rigorous undertaking and is a testament to the outstanding teaching of our history department, which is matched in our other departments across the school."
The department will be invited to receive its award at the Historical Association's Summer Awards Evening.