On Tuesday, 2nd February, pupils from Dunottar School in Reigate enjoyed a science lesson from space, led by astronaut Tim Peake.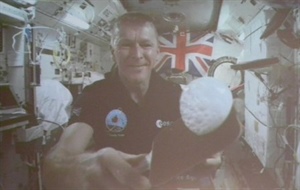 Around 300,000 children in the UK took time off the curriculum for an out-of-this-world science lesson, which took place via satellite link from the International Space Station.
Pupils crouched down, spun around and touched their toes in a game of follow my leader. They then had a blast when the first British astronaut to officially do a spacewalk did the same activities in zero gravity.
The school hall of budding scientists particularly enjoyed watching him dissolve a vitamin tablet in a drop of water, which then fizzed and expanded. He played ping pong with it, prompting much hilarity.
Dunottar's Head of Science, Rea Pope, commented: "The cosmic classroom was a fantastic opportunity for our students to participate in a worldwide activity that awed and inspired them, helping to engage them with science beyond the classroom and, in this case, beyond our planet."