A school in Reigate has smashed records with registrations to sit January entrance exams.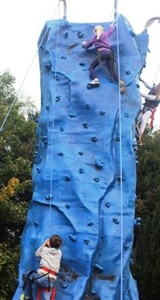 Following exceptional interest in Dunottar School last year, the school is now beating all of last year's records, with new record numbers of children registering for assessment in January.
These numbers were reflected in last Saturday's activity morning, at which over a hundred hopeful youngsters enjoyed an action-packed morning of workshops at Dunottar School.
Year 6 pupils, who have all registered to sit Dunottar's entrance exams, made new friends in a variety of workshops. More than ten were on offer, including scaling a climbing wall, mixing potions, making a pencil holder, and performing poetry.
Over the past twelve months, the number of pupils on the school roll has increased by 40%, and there is an excellent co-educational balance of boys and girls.
Now that Dunottar is fully co-educational, its sporting profile has moved from strength to strength. The U12 rugby team is convincingly winning fixtures, and the girls' lacrosse team is benefitting from the coaching of England lacrosse player Katie Evans.
The school is also aiming to host its first Aquathon in December for Year 5 and 6 pupils and will test the budding athletes' swimming and running skills.
Since last September, the sixth form courses have expanded to include an exciting new A' level in physics, which is delivered through a 'United Classroom'. As well as receiving support from staff at Dunottar, the pupils receive tuition in a virtual classroom, enjoying a blended learning approach of live online lessons and the opportunity to study with pupils from other United Learning schools.
Thousands of pounds have also been invested in an ongoing programme of refurbishment. The first of the science labs has been redesigned and refurbished. The school library, funded by Dunottar Voice, will be opening after the half-term holiday.
Head teacher Rowena Cole commented: "It has been fantastic to see the hard work from last year come to fruition with a huge increase in pupil numbers, excellent cutting-edge facilities, and a developing profile in many areas of school life, including sport. With the incredible interest shown in the school, next year is already shaping up to be an exciting prospect."