Pupils at a local school are enjoying the benefits of a unique designer science laboratory.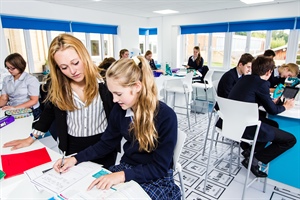 In the first step of a major part of a major revamp of science facilities, a laboratory has been completely gutted and refurbished at Dunottar School in Reigate.
The bespoke chemistry lab, which has been funded by United Learning, has a modern, futuristic design that's not usually found in schools. With a periodic table on the floor, sweeping curves and designer furniture, there's a crisp, clean, business-like ambience, which is perfect for young scientists.
Head of science Rea Pope said: "My vision was to create a learning environment that would engage students—an area where they would want to come and learn, which would inspire them. The brief was to create something different: to take the necessary parts of a science lab and to immerse them in an environment that was fun and exciting."
Head teacher Rowena Cole commented: "It has been fantastic to see the reaction of all our pupils to our new lab, and the design really captures our aspiration and ability to create a cutting edge learning environment. It won't be too long before facilities on site are completely transformed for the benefit of our current and prospective pupils."
Photography: Lee Irvine / Pelicanimages