British gold medallist Maddie Hinch delivered an inspirational speech at Dunottar School's Prize Giving evening on 10th September.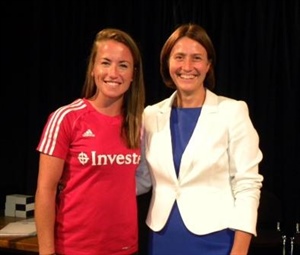 The Great Britain and England hockey goalkeeper recently gained gold at the European Hockey Championships. Her string of saves forced a penalty shoot-out against the former Olympic champions, the Netherlands, resulting in a win for England.
Maddie was crowned Sky Sports Woman of the Month in August, receiving three quarters of the public vote and beating Olympic heptathlon champion Jessica Ennis-Hill.
The elite sportswoman received plenty of plaudits at the packed hall of pupils, parents and staff of the Reigate-based school. She inspired her audience with the story of her determination to overcome obstacles and to tackle the challenges of life.
The first set-back to her career was when she was not selected for the England U21 squad for the Junior World cup in Boston in 2009.
Determined to do better next time, she said: "I read articles, watched other clips of top keepers and really worked on certain physical aspects of the game. I put a lot of emphasis on my vision and hand-eye co-ordination, skipping, flexibility and footwork. I left no stone unturned."
Her hard worked paid off when she was selected in 2010 for the senior GB squad based at Bisham Abbey National Sports Centre in Marlow.
Two years later, disappointment struck again when she narrowly missed being selected for the 2012 Olympics squad, but she was determined not to let this stop her.
"As long as I stuck at it and continued to train hard," she commented, "I was confident my Olympic time would one day come."
In April 2013, her effort was rewarded when she became the England and GB first choice goalkeeper.
Since being handed the number one shirt, she has earned over eighty combined England and GB caps and won a number of individual awards.
She commented: "Without doubt, my career highlight to date is winning Gold at the Europeans just ten days ago."
Head teacher Rowena Cole commented: "Maddie's speech really resonated with our parents and pupils. It is a great message for everyone that the journey to the top in any field may not be smooth; however, if you keep aiming high, work hard and respond with courage and conviction, then incredible results are possible."
Dunottar School was celebrating a 95% pass rate with its A' Level results, with students leaving to read a range of degrees, including physics at Oxford University. More than 50% of the GCSE grades were A* and A, and 95% of the students passed with grades A* – C.
In just twelve months, student numbers at the school have risen by over 40%. A third of the pupils are now boys.