Students and staff were celebrating outstanding GCSE results at Dunottar School in Reigate today with more than 50% of the grades being in the A* – A bracket.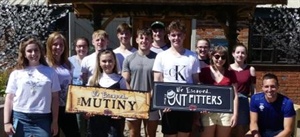 51% of the GCSEs were awarded A* – A while the A* – C pass rate was 95%.
Achievements across the curriculum were impressive, with pupils gaining full marks in exam papers for physics, French, religious studies, Spanish and geography.
A preliminary analysis indicates that the school continues to achieve outstanding value added results, as many pupils exceeded predictions on baseline data.
High achieving students who gained straight A* – A grades include Jasmine, Georgina, Connie, Megan, Hattie and Thea.
Head Teacher Rowena Cole commented: "Our Year 11s have been an incredibly bright and enthusiastic year group, and I am thrilled to see their hard work rewarded with such fantastic results. With a wide range of career aspirations including medicine and product design, I cannot wait to see what they achieve as they progress through our sixth form."