Students at Dunottar School were today celebrating another year of success with their A' levels, and one student is going to Oxford University.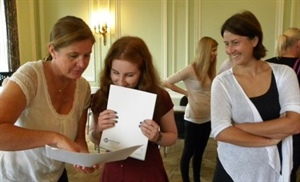 With a pass rate of more than 95%, head teacher Rowena Cole was delighted: "I am incredibly pleased to see our students' hard work rewarded with some excellent A' level results, enabling them to embark on their choice of higher education course.  They have all made a fantastic contribution to the life of the school, and they leave Dunottar with our warmest wishes to embark on the next exciting chapter in their lives."
The results are impressive, with 10% of the students gaining an A* and 80% achieving A* – C.
Among these students is Cesca, the youngest pupil in the upper sixth, who achieved a fantastic sweep of A* grades across all her subjects.  The School Captain is celebrating A* grades in chemistry, physics, maths and further maths after gaining full marks in every chemistry exam and dropping just two marks in maths and three marks in further maths.
The aspiring physicist, who spent part of last summer studying physics at Cambridge University as part of a Senior Physics Challenge, will now take up a place to study physics at Oxford University.
"I'm going to miss the atmosphere at Dunottar because it's extremely supportive," she commented.  "I'll also miss my teachers because they've been inspirational, and they've allowed me to get to where I am today, for which I'll be forever grateful."
Subjects that other students will study at university include music, Spanish, business management, education, history, and law.