Last night, a parenthesis of cellists from a school in Reigate won the Chairman's Cup for the best performance of the evening at the Redhill and Reigate Music and Drama festival.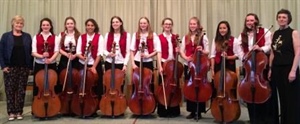 For the third year in a row, the cello section of the Dunottar Chamber Ensemble won this prestigious award, competing against thirteen other ensembles.
Composer Patsy Gritton, who also awarded the pupils with an Outstanding Certificate, made glowing comments about the two pieces that they performed, entitled 'Romance' and 'Rondeau'.
She said: "It was wonderful to hear this group perform 'Romance' so well together. There was a wonderful tone colour with well-managed balance and a successful mature grasp of the mood in this piece. The lyrical line was beautiful and very well accompanied. There were sensitive tempo changes.
"You were able to perform with wonderful shape and very effective dynamic contrast," she added, praising the talented teenagers' second performance of the evening. "Confident and articulate, intense and poised, you gave a very successful and accomplished performance. It was a really wonderful treat!"
Director of Dunottar Chamber Ensemble, Loraine Naggiof, commented: "I am so proud of my cellists because they rose to the occasion and played brilliantly. They really wowed the audience as well. There was only praise from the adjudicator, and she could find nothing for them to improve on!"