Year 11 GCSE students at a school in Reigate have received plenty of plaudits for their GCSE drama performance.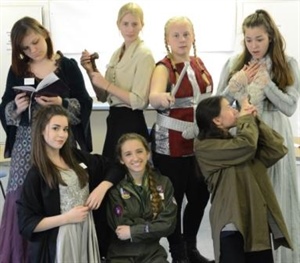 This week, students from Dunottar School adapted 'Chamber Music', a rarely performed one-act play written by playwright Arthur Kopit.
Set in an insane asylum in 1938, the plot focuses on seven patients, who think they are famous women—ranging from Joan of Arc to Amelia Earhart—from different historical periods.
The talented teenagers performed the challenging and intriguing piece of drama on a set that had been transformed into a stark high-security hospital wing.
The rapt audience of parents, students and staff gave an enthusiastic response. Immediately afterwards, one audience member tweeted: 'best performance that Dunottar has ever done!'
The play was directed by drama teacher Gillian Shields, who is a former director of the Academy of Live and Recorded Arts (ALRA), a professional theatre school in London.
She said: "Well done to all the students involved. They embraced the spirit of this absurd comedy that also conveyed the depth of the women's suffering. It was a fantastic team effort with everybody reaching very high standards.
"We really appreciate the support of the whole school," she added, "as staff and students gave up their time to watch rehearsals and give us their feedback. In particular, thank you to David Boyd for assisting with sound and lighting and to Pat Mansell for helping with props and stage management."