Dunottar School in Reigate is delighted to announce the appointment of its very first School Captain team.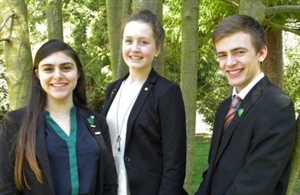 This replaces a long tradition spanning almost ninety years of having a Head Girl team—and reflects the school's co-educational status.
The new School Captain team members are respectively Izzie, Markeila and Connor.
Izzie said: "When I heard that I was to be appointed School Captain, I was quite surprised!
"The school has given me a lot of confidence," the sixth former added, "and I hope to develop this confidence in others."
She is studying for A' levels in English, chemistry, biology and religious studies, and hopes to read anthropology at university.
Markeila, who is studying Spanish, French, art and history, is aiming to specialise in French and Spanish at university.
She said: "I would like to ensure that everyone at Dunottar is happy and feels safe."
Connor is the school's first male to be in a School Captain team. He is studying biology, maths and physics, and hopes to read psychology at university.
He said: "I would like to be the voice of the boys and help them to integrate into the school when it becomes fully co-educational in September."
Assistant Head Pippa Smithson commented: "They are an inspiring team, who will lead by example. They are bright and hardworking students with a wonderful sense of fun."