Pupils from Dunottar School have raised over a £100 to support Children with Cancer.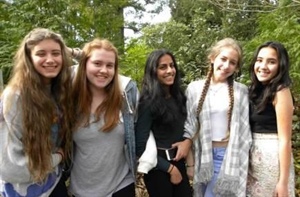 The charity aims to help children with cancer across the UK through research, welfare and campaigning programmes to save young lives.
Students from the co-educational school in Reigate ditched their uniforms for the day and held a cake sale, raising £133.
Pupils from Dunottar's charity committee elected to support Children with Cancer because of the experiences of former pupil Charlotte Hutchinson, 21, who was diagnosed with cancer when she was a student at the school.
Last September, she addressed a packed hall of pupils, parents and staff to share her story.
She said: "During my time at Dunottar, I broke eight fingers, two arms and shattered a bone in my leg walking up stairs.  I was taken to hospital twice in an ambulance, spent two months in a wheelchair and was diagnosed with cancer at the end of Year 8.  I think you could say I definitely had to overcome adversity."
Charlotte, who is in her final year of a degree in Computer Science, was invited in 2012 to be an ambassador for Children with Cancer.
As well as providing support for children who suffer from this crippling disease, she actively fundraises, is a guest speaker at universities, and has attended two events at the House of Lords to celebrate medical research.  Having completed a half marathon, Charlotte and her sister Harriet, 21, plan to run the London Marathon to raise more money for the charity.
Dunottar's Deputy Head teacher, Marc Broughton, commented: "It was wonderful to hear Charlotte speak at our annual prize giving back in September and, when she contacted us asking for our support, we welcomed the chance to help out."