A school production of 'Frankenstein' has received a glowing reception from the audience and the play's authors.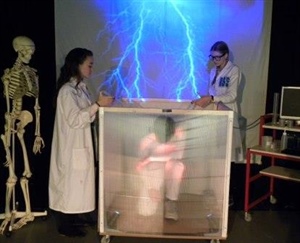 Pupils from Dunottar School in Reigate received plenty of plaudits when they performed 'Frankenstein', written by Jonathan Nitton, Cameron Jack and Amanda-Jane Short.
The stage was transformed by art teacher Marion Baker into a highly secretive government research laboratory, from which a cast of scientists and corporate executives are close to completing The Prometheus Project: the creation of a perfect soldier.
Set in 2016, this adaptation of Mary Shelley's classic story was directed by David Broughton-Davies and Charlie Watts.  They successfully recreated the gripping atmosphere of the original story while at the same time taking the audience on an exhilarating and emotional rollercoaster of life from the viewpoint of Frankenstein's creature.
Hattie Powell-Cook played Dr Victoria Frankenstein, who learns the dangers of playing God when she creates her perfect soldier—the creature Adam-One, performed by Connor Lilliott. The whole cast transported their audience with their outstanding acting, particularly as the dialogue replicates speech from the early 19th century.
Playwrights Jonathan Nitton and Amanda-Jane Short watched the final performance of the two-night run.
Amanda-Jane Short commented:  "The cast coped with the difficult script incredibly well!"
Actor and co-director Charlie Watts said: "David Boyd's lighting and soundscape added to the foreboding atmosphere of the play. Catherine Penfold's wonderful costumes, and hair and makeup by Gina Watson and Lisa Longstaff, meant the students really looked the part. Georgia, Georgie, Erin and Bethany made up the all-student stage crew. Special thanks must also go to MOVIEMAKERS for the scenes that were filmed using green screen technology, which transported the cast into a snowy arctic waste.
"I couldn't be more proud of the cast and their achievements with what is a mature piece of theatre," he added. "They kept the audience enthralled throughout with their focus and commitment to the production. The whole production team did a fantastic job in ensuring the audience had an entertaining and stimulating evening.  Special thanks must go to Julie Boden and Rea Pope for their superb production management skills."