A student from Dunottar School in Reigate has sung before an audience of thousands at Wembley Arena.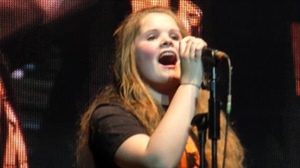 Last week, Daisy was a main performer for the second year in a row when she entertained her audience with a performance of 'Best day of My Life'. For the third year in a row, she also sang in the Voice in a Million Stage Choir.
The Voice in a Million annual concert is a project that aims to promote adoption by raising awareness of the plight of millions of children worldwide.
This year's event focused on a new charity called Children United, which is officially launching in September.
Children United is an innovative and interactive web-based communication platform that will connect children from all over the world, enabling them to discuss the stories that matter most to them. It will also help them to understand different points of views and other cultures.
Daisy's proud mother commented: "Daisy really loves performing with the Stage Choir. At rehearsals throughout the year, as well as learning more about music and laying down tracks in a studio, she has made friends and had fun whilst helping to promote a really worthy project."