Actor Warwick Davis has visited Dunottar School in Reigate to talk to students about a charity, which he co-founded.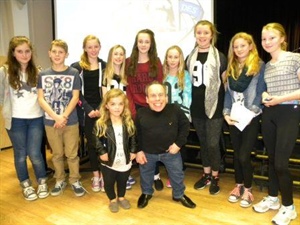 Little People UK aims to help people with dwarfism to build a positive future by offering them, and their families and friends, friendship and support.
Warwick, who is the charity's patron, said: "Some people with dwarfism feel isolated and shy. The charity helps to provide them with confidence."
Little People UK, which will soon celebrate its third birthday, holds annual conventions, workshops, social events, help with grants, and provides support from doctors, physiotherapists and Special Educational Needs Co-ordinators.
With a career spanning over three decades, Warwick is best known for his roles in Willow, Star Wars, Harry Potter films and most recently on our TV screens in Life's Too Short, Doctor Who, An Idiot Abroad 3. As founder and director of The Reduced Height Theatre Company, he was featured on the BBC's Modern Times.
In a lively question and answer session, students quizzed him about his favourite part played (Wicket the Ewok in Return of the Jedi); his funniest moments; his experience of being in Doctor Who ('it had been my ambition for many years'); his favourite Harry Potter films (The Prisoner of Azkaban and Deathly Hallows Part 2), the last day of filming the final Harry Potter film, and the best part about being in Harry Potter ('the privilege of bringing one of J.K. Rowling's characters to screen and working alongside all those brilliant British actors'). He also explained that he became an actor purely by chance.
After presenting the school with a signed copy of his book Size Matters Not, eager pupils queued up for photographs and autographs.
Head teacher, Rowena Cole, said: "It was brilliant for both staff and pupils to meet Warwick and to hear about his different experiences both on and off screen. It was a really entertaining afternoon, but I also hope it will have reminded our pupils that, in a very image conscious world, it is important to look beyond the image to the person underneath; the fact that most of our pupils left school half an hour late to spend additional time with Warwick is testament to his warmth and the connection he was able to create."