Pupils and staff will soon be celebrating Dunottar School's first anniversary as a member of United Learning.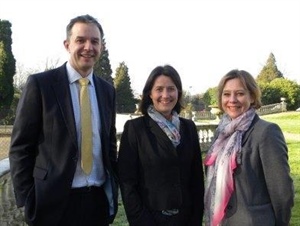 On Friday 28th February last year, the Reigate-based school joined United Learning, whose schools include Guildford High, Surbiton High and Caterham.
In September, Dunottar welcomed a new Head teacher, Rowena Cole, and Deputy Head, Marc Broughton. It also became co-educational, enrolling students into Years 7, 9 and 11. From September 2015, Dunottar will be fully co-educational.
Interest in the school is now so strong that a record-breaking number of prospective pupils sat entrance exams at the start of January. Demand was so high that the school hosted a third day of entrance exams—a first in the history of the school.
Rowena Cole commented: "We're enjoying great relationships with the Heads of our feeder schools. As a result, we're welcoming students from wider catchment areas than previously, such as Dorking, Caterham, Crawley and East Grinstead, for which there are school buses. We also provide a collection and drop off service to Redhill railway station, and this is attracting students from the commuter routes.
"It's so good to see that Dunottar is thriving," she added. "Since becoming part of United Learning, we have begun a recruitment draw that is attracting an incredible calibre of candidates. For example, our new Assistant Head, Pippa Smithson, has responsibility for developing teaching and learning, and she is already making an impact on the school.
"Our teachers are re-energised and have visited other United Learning schools to share best practice. They are committed to maintaining our position as amongst the top 10% of schools in the country for value added (the difference between the grades they are predicated to gain when they join the school and the grades they actually achieve).
"Many of the classrooms have been refurbished and developments are on-going," continued Rowena Cole. "The English classrooms have the latest state-of-the-art interactive whiteboards, and there are class sets of ipads, with plans to roll them out across the whole school next year."
Deputy Head Marc Broughton has established strong links with Caterham School, and boys from Dunottar have trained and played in competitive sporting fixtures alongside Caterham students.
The former Caterham teacher commented: "The sharing of facilities has been reciprocal in other aspects of the curriculum. For example, our Year 10s enjoyed a team building day at Caterham School, and pupils from Caterham have been over to use our Food Tech. facilities. Alongside this, we have a partnership with Reigate Rugby Club, which allows us to use their facilities for any of our sporting events.
"We have also worked hard to establish a well-rounded and full extra-curricular programme, which allows the pupils to grow outside of the classroom as well as in it."
The students enjoy the benefits of smaller class sizes as well as a wider range of opportunities through being part of United Learning. For example, Year 9 students were shortlisted to the top twenty in a #UnitedApp2015 competition where they competed with students from other schools to design an app.
Teacher and parent Julie Boden commented: "I think the Love Dunottar campaign did a fantastic job last year. They worked incredibly hard to forge a new future for the school because there's such a strong feeling of community."
The mother-of-three added: "All my children came here, and they have been nurtured in a way that I don't think would happen anywhere else. I still have two daughters at Dunottar, and they are seeing the benefits of having the backing of United Learning."