A student from Dunottar School in Reigate has gained a gold certificate in the Senior Mathematics Challenge, run by the United Kingdom Mathematics Trust.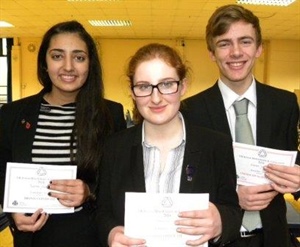 The Challenge aims to advance the education of 16-19 year olds studying mathematics.
As well as gaining gold, Francesca won the 'Best in School' award and 'Best in the Upper Sixth' award.
The 17-year-old School Captain's score was so high that she is through to the 'Senior Kangaroo' round, a paper that it sat by invitation only, the results of which are pending.
Head teacher, Rowena Cole, commented: "We are all delighted that Francesca has achieved so highly, and we're keeping our fingers crossed for the next round. All the students have the opportunity to enter this national competition and they have risen to the challenge admirably!"
Connor and Tabitha, both aged 17, gained a bronze certificate, and Connor achieved the 'Best in Lower Sixth' award.