Pupils from Dunottar School in Reigate have worn their own clothes to school to raise money for Dunnottar School in Saint Lucia.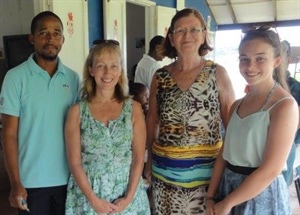 They have raised over £170 for their Caribbean namesake, which caters for students of varying disabilities, such as Down Syndrome and Autism.
Hannah, a Year 11 student at Dunottar, proposed the charity after a family holiday in Saint Lucia.
She said: "I learnt that it's a non-government funded school, so I thought it would be nice to support the students, especially as we have done this before."
Two years ago, the whole school embarked upon a range of fundraising activities, which included wearing Caribbean-themed clothes to school. They were inspired by former Head Girl Ruth Hyde, who had taken a year's career break to do voluntary work at Dunnottar.
"My family topped up the money to make £500," added Hannah, "which is enough to pay for a free lunch for every child for a whole year."
Head teacher, Rowena Cole, said: "It is always encouraging when pupils take the initiative to identify a charity to support. In this case, it is particularly nice to be able to support our namesake in the Caribbean and to contribute in a way which will have an impact for an entire year."
Both schools are named after Dunnottar Castle in Scotland, but there are variations in spelling.