Yesterday, Years 7, 8 and 9 were treated to a highly entertaining talk by Alex Scarrow, the highly acclaimed author of the popular TimeRiders series.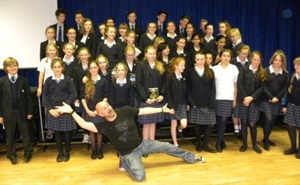 In this series of bestselling books, the main characters travel through time to protect established historical events. Their mission is to stop people tampering with time.
Alex, who was originally in a rock band, explained to his rapt audience how he became a computer games designer. Believing that his ideas for games would be more effective as novels, he then decided to become an author.
English teacher and librarian, Christina Turner, commented: "His talk was interspersed with a video trailer for the books as well as slides showing how the world might look now if certain events in history had not happened.
"He read the first two short chapters of TimeRiders 1, set on the Titanic as it began to sink, "she continued. "These were intensely gripping and enthused the pupils to read the novel for themselves."
The pupils enjoyed quizzing Alex in a question and answer session, after which he signed copies of his books.
The students are currently drafting entries for a competition, in which they have to write an introductory paragraph to their own TimeRider book, in the style of Alex Scarrow. As an added bonus, Alex announced that the winning entry will be posted on his new website.