Dunottar School is this week celebrating the beginning of its first term as a co-educational school, with boys starting in Years 7, 9 and 12 to learn alongside its established and new girls.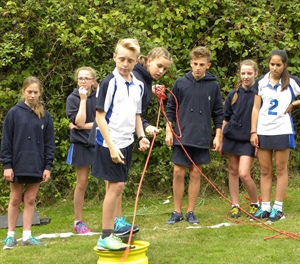 The shift to co-education has proved so popular that half of Year 9 pupils are now boys. As a result, the year group has enjoyed a special day off curriculum to take part in team building events, run by Adventure Lifesigns.
The Reigate-based school will become fully co-educational in September 2015 and, if this beginning is anything to go by, demand is going to be very high.
Having ended the last school year on a high after what was a turbulent year when at times its future was unclear, everyone at the school was buoyed by excellent results in this summer's GCSEs and the term has got off to a flying start.
Amongst the new arrivals is the school's new Head Teacher Rowena Cole, who said: "This has been incredible start to the new academic year. The boys and girls have all been brilliant. There is a real buzz about the place. Our future is secure and we have a packed school year ahead of us.
"With so many new students of both sexes we decided to run a range of activities to help the new and returning pupils to get to know each other better and begin to enjoy co-educational learning. Likewise, as part of their induction, our new Year 7s will be going on a fun residential trip to an outdoor education centre.
"It has been an exciting first week – not least in seeing rugby being played for the first time in the school's history.
"There have been lots of changes to the school throughout the summer. Many of the existing classrooms have been refurbished and developed, and we're introducing new state-of-the art technology which will be rolled out across the school.
"Through our new Deputy Head Marc Broughton, we have excellent links with Caterham School, and boys from Dunottar are joining Caterham for some of their sports activities. We are also delighted to have developed a close partnership with Reigate Rugby Club.
"Everyone is so very pleased to be here and staff, pupils and parents alike are all commenting on how great it is to be starting a new academic year together."