A student from Dunottar School in Reigate has helped her team gain second place in the Under 14s section of a national polo championship.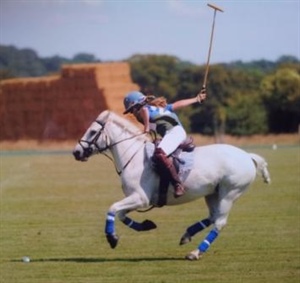 Lucy Martin, 11, a member of Old Surrey & Burstow Polo Club, competed in the Audi PC Polo Championship tournament at Cowdray Park, on 8th– 10th August.
Following a successful run of qualifying tournaments at Cirencester, Longdole and Tidworth, Lucy and her three team members Martine Patey, Archie Bull and Sophie Preston competed against twenty-one teams, including Scotland and Northern Ireland.
Proud mother Caroline Martin commented, "The final between the two highest goal scoring teams was scheduled to be played on the 10th August on the main ground at Cowdray. This is a big privilege as it's usually only reserved only for professional tournaments! They were due to play against the brilliant rival mixed team of South Berkshire and South Oxfordshire.
"However, on the morning of the final, Hurricane Bertha swept through, so the final had to be abandoned for safety reasons. Second place was awarded to Old Surrey & Burstow based on overall goals scored. They narrowly missed by a narrow margin of goals.
"We will never know if they could have won, but it was so exciting and fabulous to watch the team. We are proud of them all!
"We are lucky to have support and training through Old Surrey & Burstow Polo Club, which Lucy's been a member of since she was six. She's a keen lacrosse player at Dunottar and this has helped her Polo a lot. It's a great platform for the future, and it keeps Lucy motivated, fit and happy, which is the main thing!