A student from Dunottar School in Reigate made a splash when she swam for Team GB in the 11th European Deaf Swimming Championships in Saransk, Russia.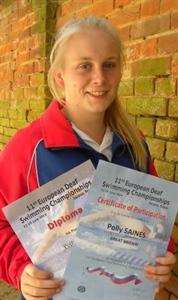 In the week-long event (22nd – 28th June), Polly Saines, 15, was awarded a certificate for coming fifth in the final of the 200 metres butterfly race with a time of 3.31.93 minutes. She also swam in six races and gained personal bests in 100 metres backstroke, 100 metres breaststroke and 200 metres butterfly.
Mother Alison Saines commented: "She had a fantastic time. She swam extremely well and we are proud of her!"
Polly is now training hard and hopes to be selected to compete in the World Deaf Championships in San Antonio Texas in America next year.