The Art and Design & Technology departments at Dunottar School in Reigate have held a public exhibition to showcase work by Year 11 and sixth form students.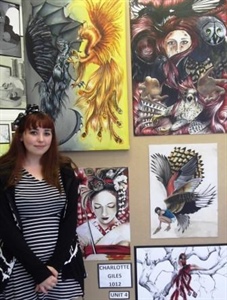 The innovative product design section of the exhibition revealed the promise of young designers in the making, as students were challenged to create pieces of original design from organic shapes. The products were finished in acrylic and plywood, chosen for their sustainability.
The art display also showed a strong ability in a wide range of materials, ranging from detailed lino cuts and monoprints to installation art work.
Head of Art Sam Emblem said: "GCSE and A' Level students do fine art, which allows them to play to their strengths. These might be painting, drawing, sculpture, mixed media, photography or textiles. This ensures that each student can attain their full potential."
Former students from Dunottar have studied a range of art degrees at some of the top universities in the country, including Goldsmiths', The Slade and Chelsea.