A chef at Dunottar School in Reigate is one of nine national winners of an Outstanding Performance 2014 Award.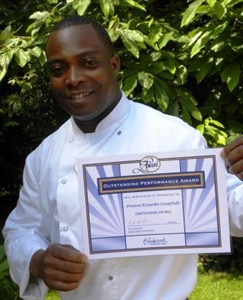 Ricardo ('Ricky') Campbell works for Brookwood, which provides a dedicated contract catering service to 94 independently run schools across the UK. Dunottar School is one of their clients.
Catering manager Jackie Denyer commented: "Ricky has stepped into the role of being my right-hand man with enthusiasm and a willing attitude. He will do more than asked and is always happy, singing and smiling. He continually comes up with suggestions and ideas and is very aware of the 'Brookwood way'. He is a valued asset to the school."
The popular Chef Ricardo, who has been working at Dunottar for two years, said: "I was really happy to win this, as I was a runner-up last year. I've been working so hard, and now I want to work harder. I couldn't have done this without the support of my manager Jackie."
Ricardo has also won a £50 voucher, which he aims to spend on his four-year-old daughter.