Dunottar School in Reigate is delighted to announce that it will be hosting a rugby coaching course this summer.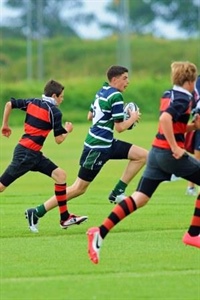 The two-day London Irish Rugby Camp will be run by Premiership Rugby Academy, the official camp provider to the premiership clubs.
Dunottar's recently appointed Director of Sport Rob Clarke commented: "The camp is open to boys and girls from any school between the ages of 6-16. It's perfect for complete beginners or for advanced players, who are keen to sharpen their skills ready for the season ahead.
"The coaching will encompass both technical and tactical development – speed, agility and quickness training – in addition to position-specific instruction.
"Players will be trained using the latest techniques and concepts employed by London Irish first team coaches, widely regarded as some of the most innovative and exciting coaches in the Aviva Premiership today."
The course will be held on Monday 18th and Tuesday 19th August at Dunottar School. For further information and bookings, click here to contact the Premiership Rugby Academy.