On Friday 6th June, Mayor Councillor Dr Lynne Hack visited Dunottar School in Reigate to award some of our pupils and staff with commemorative coins.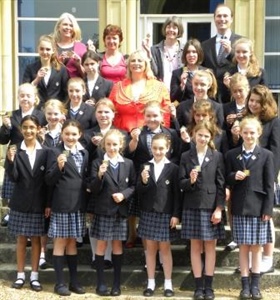 A thousand coins were freshly struck to celebrate the 150th anniversary of Reigate and Redhill as a municipal borough.
The Mayor said: "The aim is share the coins with either people who have assisted with an event, or people I've met at the Town Hall.
"I'm particularly interested in children receiving the coins," she added, "as this encourages an interest in the history of the borough and also in civic matters."
Members of Dunottar Choir received a coin each for singing in the Holocaust Memorial Service at Reigate Town Hall last January. This is an annual event, hosted by the Mayor, to commemorate the Jews who died in the Holocaust – and other victims of more recent genocides.
Director of Music David Black and Mathematics Teacher and pianist Susan Gough, who accompanied the choir, also received coins.
Last but by no means least, coins were given to Year 6 students who, accompanied by their teacher Kim Jaggard and colleague Sylvie Machacek, visited the Town Hall last November, took part in a mock debate and quizzed the mayor.
Head Teacher Nikki Matthews commented: "It is a privilege to be part of the borough celebrations this year, and all the staff and students are very proud to receive the coins and recognise the important part that our Town Hall plays in the community."