An enterprising alumna from Dunottar has just announced the launch of her online fashion company.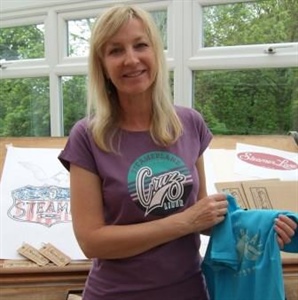 Reigate resident Antonia Rees-Brown and her partner Philip Harmer have founded Steamer Lane, which has recently introduced its first range of t-shirts.
The range was inspired by the couple's love of travelling and beach culture. Half Australian herself, Antonia has travelled the country extensively and, with her partner, has visited far-flung destinations around the world.
She commented: "We have been lucky enough to see some fabulous parts of the world, and enjoy the feel and 'vibe' of the surfing community. Our clothes are a wearable postcard of our adventures."
After leaving Dunottar in 1978, Antonia spent some years living and working in Australia. On her return to England, she worked for an insurance company and then ran her own package holiday business. After gaining a teaching diploma at Sussex University, she taught maths, English and I.T. at East Surrey College. Two years ago, she trained as a cycle instructor and mountain biking leader before setting up a popular cycling club, Bikefit Surrey, in Reigate.
"No matter what I've been doing, I've always been very active," she said, "and the beach life scene is part of that. I learnt to swim at Dunottar, which is where it all started!
"I was just an average student, neither very popular nor very clever, just fair to middling, with a small group of friends and a bit of a flair for English and drama. Dunottar drew those strengths out of me and made much of my small successes, so that I managed to gain some confidence, as I was rather shy at first.
"This ability to step out of a comfort zone to be in the limelight has been key to my career, hobby and sports choices. Most – if not all – have involved me standing up in front of people."
Steamer Lane clothing is exclusively retailed in the UK via their website.