Dunottar taught boys yesterday – for the first time since World War 2.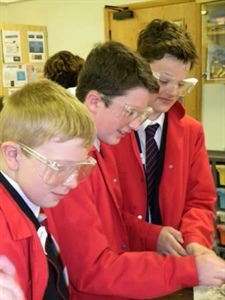 Dunottar School – part of the United Learning group – welcomed a large group of boys to a Taster Day. This is part of the transition process for September 2014, when the school will be admitting boys to Years 7, 9 and 12.
They enjoyed science, art and drama lessons in the morning before an afternoon of iPad orienteering in the grounds.
At the end of the day, one of the intrepid youngsters enthused: "I'm now sure I want to come to Dunottar!"
Dunottar School became co-educational for a brief period during the war years to meet the needs of the local community. Nearly seventy years later, the decision to become fully co-educational in September follows Dunottar's decision to join United Learning, which already runs a group of successful independent schools in the local area including Guilford High School, Surbiton High School and Caterham School.
Throughout the summer, facilities for boys will be developed and – subject to planning regulations – a multi-use games area (MUGA) will be built. The high-quality Sport England Type MUGA will be available for 5-a-side football, netball, basketball and tennis.
United Learning's technology team is also investing to ensure that the school's computers are up-to-date, fast and secure. This includes plans to roll out the use of iPads in dedicated classrooms, taking the expertise already developed in other United Learning schools to further enhance the learning experience of pupils at Dunottar.
Mrs Rowena Cole, who will be Dunottar School's new Head Teacher from September, said:
"We have been very pleased with the strong interest there has been from families with boys and, each week, offers are being accepted. As a Group, United Learning has significant experience in managing the transition from single sex school to co-educational and we are receiving some excellent support – making sure Dunottar has everything it needs to welcome its boys in September.
"I am very excited about taking up post and look forward to welcoming all our new pupils – boys and girls – into what is already a successful, happy and thriving school."