Enterprising pupils from Dunottar are aiming high in their aspirations to provide an aerial walkway for the local community.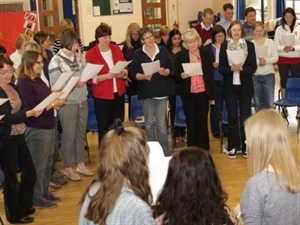 The project – named High Trees – will provide elevated views of the school's canopy of trees. Fully accessible to wheelchairs and buggies, the walkway will be available for the local community. School children and nature-lovers will be able to spot birds, insects and blossoming buds at close quarters. They might even see some of the deer that inhabit the school grounds.
On 22nd April, Year 11 and sixth form students kick-started the High Trees project with Musikscool, a team of musicians, business coaches and trainers. They helped the 15- to 18-year-olds to record an album and set up a business project – in just one day.
The youngsters wrote, produced and recorded an album, which will be sold to the public through iTunes. One of the songs on the album is a new school anthem, written to mark Dunottar's new co-educational future with United Learning.
On June 18th, the album will be showcased to the rest of the school, marking its official launch on iTunes.
The students are actively promoting the High Trees project and album, drawing on their business acumen to develop this exciting business opportunity. All profits from the sale of the album will fund the aerial walkway, and the students are also contacting local businesses for corporate sponsorship.
Penny Durston, 16, said: "We are growing a canopy for our future with the high trees project – our roots are firmly in the community, with an aerial walkway for everyone to use. It's so appealing that we are truly 'rooted' to Dunottar!"
Any readers wishing to contribute to this project should contact the Bursar at Dunottar School on 01737 761945 or email info@dunottarschool.com.