Writer and historian Tracy Borman stepped out of Hampton Court Palace this week to an enthusiastic welcome from students and staff at Dunottar School in Reigate.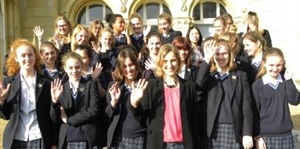 The Interim Chief Curator for Historic Royal Palaces and Chief Executive of the Heritage Education Trust spoke to a packed ballroom about her highly-acclaimed biography of Elizabeth I, 'Elizabeth's Women'.
She talked to a rapt audience of GCSE and A' Level History students about the life of Elizabeth I, as seen through the eyes of her circle of women.
Commenting that historians have always studied Elizabeth I in relation to men, she described her delight at discovering a range of sources of information that, because they had been written by women, had previously been ignored.
"There were letters from her ladies-in-waiting about Elizabeth," she explained, "which had been dismissed as irrelevant – an incredibly rich seam of historical research that had not been looked at before."
Her audience of budding historians was gripped as she revealed details of Elizabeth's life, her treatment of women, her relationships with her family and theories for her decision to remain single.
"By the end of writing the book, I can't say I liked her," she commented in a quizzing from students, "but I admired her greatly."
Tracy then signed copies of 'Elizabeth's Women' and her latest bestseller 'Witches: A Tale of Sorcery, Scandal and Seduction', a copy of which she donated to Dunottar.
Head of History, Julie Boden, said: "The students and staff were so fortunate to hear Tracy speak so eloquently about such an interesting aspect of Elizabeth's reign and hopefully the A' Level students will have gained valuable ideas for their forthcoming A' Level examination."