A forty-strong cast of pupils from Dunottar School in Reigate performed to packed houses in a three-night run of the critically-acclaimed musical, which premiered on Broadway in 1950.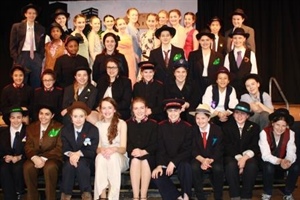 The stage was transformed by art teacher Marion Baker into 1930s New York ('Runyonland'), populated by a cast of gangsters, gamblers and other characters of the underworld.
Megan John played Sky Masterson, a gambler willing to bet on virtually anything, while Maddie Penfold was Nathan Detroit, the organiser of an illegal floating crap game. Izzy Watson, the love-lorn Adelaide, and Alix Longwell, the pious Sergeant Sarah Brown from the Save-a-Soul Mission, transported the audience with their singing.
Choreographed by Helen Parker, the play was directed by actor Charlie Watts, who successfully recreated the hustle and bustle of New York City.
"I'm very proud of the students' achievements, and I would like to thank everyone who supported the show," he commented. "A special thanks to Catherine Penfold, who did a superb job with the costumes, and to musical director Charles Thompson, ably supported by Sue Gough. David Boyd made sure the lighting and sound went off without a hitch. Last but not least, the show would not have been able to take place without the hard work of the production team: Julie Boden, Laura Smith and Nicola Wintle.
"Guys and Dolls has been a real challenge for the girls as technically it is a difficult musical. They have worked incredibly hard and have produced a show they can all be immensely proud of."