A choir of talented youngsters from Dunottar joined singer Matt Cardle for an evening of music at Wembley Arena.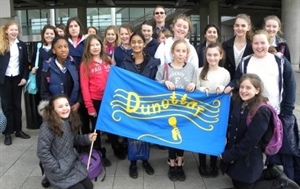 On 12th March, Dunottar School Choir joined five thousand singers from schools across the country in the annual Voice in a Million concert, presented by husband and wife couple David and Carrie Grant.
Guest singer Matt Cardle entertained excited fans with songs from his most recent album, 'Porcelain'.
Dunottar Choir distinguished itself by singing a dozen songs to a delighted audience. The Year 6-10 students entertained ther listeners with motown, gospel and current day pop songs.
Because of her outstanding ability as a singer, Dunottar pupil Nicola Denny, 12, was invited to sing in V6, a group of six hand-picked backing singers, who sang harmonies throughout the evening.
Nicola and fellow pupil Daisy Hunt, 12, also received plenty of plaudits after being selected from thousands of would-be singers to perform solos on stage.
David Black, professional jazz musician and Director of Music at Dunottar, commented: "It was a wonderful event and a fantastic opportunity for the students to sing at the Wembley Arena. They heard many talented singers from across the country – including two of our own students. You could see on their faces how much they enjoyed themselves. We look forward to returning next year."
The Voice in a Million annual concert is a project, which aims to promote adoption by raising awareness of the plight of millions of children worldwide.