Pupils at Dunottar School have started a new week with the school's future fully assured for the long-term. As of Friday, the school has become a member of United Learning whose members include Guildford High School, Surbiton High School and Caterham School.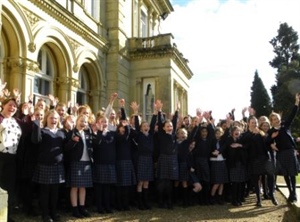 After weeks of uncertainty and a magnificent campaign led by parents to save the school, its future is now guaranteed for at least ten years and is looking confidently much further ahead. Furthermore, from September this year, it will welcome boys into Years 7,9 and its flourishing Sixth Form.
Welcoming the School into United Learning, Group Chief Executive Jon Coles said: "We are so proud to welcome Dunottar School into our Group. It is a wonderful independent school with significant potential. As well as being academically excellent, the value its education adds in improving the performance and ability of all its pupils is truly exceptional.
"Over the past few weeks we have been hugely impressed by the remarkable achievements of the school's community in rallying round to save it. We have been overwhelmed by the support they have shown us since we became involved and we are very excited about Dunottar's future in our Group.
"One of the first suggestions we made in talking to those around the school was whether we should open it to boys and we have been so struck by the demand for this that we are opening admissions into three year groups from this September.
"There is a real momentum about Dunottar School which we will continue to build on. Those who haven't visited it lately should come along and see for themselves why we are so pleased and proud to welcome it into United Learning."
Welcoming the news after a rollercoaster six-week campaign, one mother and member of Dunottar Voice (the action group comprised of parents, staff, pupils and alumni) said: "We are all absolutely delighted that United Learning has seen the potential in our school that we have always known was there. Our daughters have benefitted from all the care and support that this special environment offers, and many parents are excited that their sons will now be able to benefit from this as well now.
"Throughout the consultation period, we have marvelled at the professionalism and dedication of the school's staff and they as a team have stated their own eager anticipation at being part of the United Learning group, with the professional development and wider opportunities for sharing best practice that it offers.
"This process has been very hard on everyone involved and yet it has also brought us together as a community. Now the alumni, parents, staff and current pupils have a renewed pride and passion in the school."
Given the level of interest amongst local families in attending the school, additional Open Mornings are being held on Saturday 8th March and Tuesday 18th March from 10:30am to noon. This week the school is also enjoying Open Week, where families interested in sending their children to the school are welcome to visit during the school day.
Local families interested in visiting the school should contact Sue Edwards on 01737 761 945 or info@dunottarschool.com.