On Wednesday, 12th February, pupils from Dunottar welcomed Steven Frank, who was one of 93 children out of 15,000 to survive Theresienstadt concentration camp.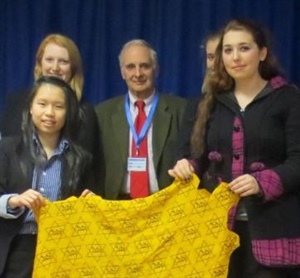 Mr Frank, 79, described his life in Nazi-occupied Amsterdam to his captivated audience of 16 to 18-year-olds. His father, a governor of one of the most advanced Jewish mental hospitals in the world, was a member of the Dutch resistance. He organised false papers to enable refugees from the Nazi regime to escape to the safety of Switzerland. In 1942, he was betrayed, arrested, imprisoned and tortured before being sent to Auschwitz, where he was gassed in January 1943.
In March 1943, his grieving family – Steven Frank, his two brothers and widowed mother – were interned in a castle near the town of Barneveld. Six months later, they were sent to Westerbork, a transit camp. From September 1944, they passed the rest of the war in Theresienstadt concentration camp in Czechoslovakia until they were liberated by the Russian Army on the 9th of May, 1945.
Head of History, Julie Boden, said: "Steven Frank described his ordeal as a child in the various camps, including things like the sanitary conditions and the food. He clearly conveyed the depth of hatred that there was for the Jews from the Nazis he personally came across. He also talked fondly of his mother, whose resourcefulness helped him and his brothers to survive. He spoke of the fear of waiting to see if your name had been selected on the lists for transportation east. He said he learnt the value of friendship during this period but also learnt how to hate. He ended his testimony with a poem about Theresienstadt, which he dedicated to the children who did not survive.
"The girls were captivated by his words," she added, "and I know that they gained so much from this experience. Indeed, one student summed it up by saying that they learnt much more detail, unavailable in a textbook, about the experience of the Holocaust."