Year 8 pupils from Dunottar have raised £527 for Sightsavers, a UK-based international charity, which fights avoidable blindness and promotes equal opportunities for visually impaired people.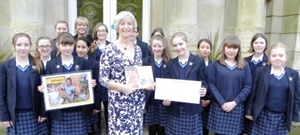 Sightsavers representative Jan Gibb commented: "This is a fantastic achievement by the Year 8 students at Dunottar School. This money is enough to fund two years of Special Education for a blind child, who would otherwise receive no education at all. Alternatively, it would give eleven children with cataracts an operation, which would restore their sight. Thank you so much, Dunottar."
The enterprising youngsters raised money through a variety of activities, which include cake and sweet sales, dressing up for a Christmas-themed fun run in December, and holding a comedy show.
Form Captain Ashleigh Smith, 12, said: "We chose Sightsavers as a charity to support because we think that it's wrong that not everyone in the world has access to medical help to cure their blindness – or support if they are incurably blind. We know that Sightsavers can do this.