On Wednesday 29th January, the distinguished soprano Patricia Rozario OBE shared her experience and skill when she led senior singers in a morning of public lessons.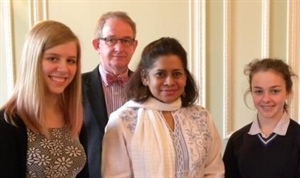 Dunottar pupils from were given the opportunity to sit in on master classes, a standard form of teaching at in music colleges and university music departments.
Charles Thompson, who helped to organise the event, said: "Years 7-9 formed part of a rotating audience, learning by observing, gaining not only ideas about how to perform, but also an understanding of how to listen to and enjoy music."
In the evening, Rozario gave an exclusive recital, accompanied by the French pianist Thomas Besnard. They performed to an excited crowd of music lovers, who had gathered early to secure the best seats in the school's ballroom. The programme encompassed a wide variety of music, which included a set of English Folksongs wittily arranged by Benjamin Britten, succeeded by French, Italian and German songs. A lighter moment was provided in songs by Walton (jazz-based) and Flanders and Swann. A final set of Spanish songs, with some flamenco rhythm, led to encore items – 'It's MY wedding' (by Jonathan Dove) and the all-time favourite 'Summertime'.
Charles Thompson commented: "The sense of keen anticipation was rewarded by a wonderful recital from Patricia Rosario and Thomas Besnard. There was great joy at hearing music-making of this sort in our ballroom. It's a musical memory to be treasured!"