Reigate pupil Chloe Barnes is celebrating after being awarded a distinction in a top grade Associated Board of the Royal Schools of Music (ABRSM) exam – for the fourth time.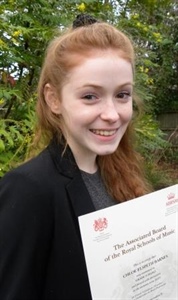 The musically gifted student at Dunottar Reigate School for Girls has achieved a distinction in her Grade 8 piano exam. This follows three previous Grade 8 distinctions for the oboe, cello and practical musicianship.
The 17-year-old's latest achievement is hot on the heels of a highly successful year in music. For the second year in a row, she was snapped up on the spot for the prestigious National Youth Wind Orchestra of Great Britain. Then at November's Sutton Music Festival, her skills on the oboe – judged 'outstanding' – earned her first place in the open instrumental concerto class.
She also won the woodwind recital class, which led to a trophy for the woodwind and brass recital class (16 years and over). She impressed one of the judges so much that she was offered a reserve place in the National Youth Chamber Orchestra and the National Youth Wind Ensemble.
David Black, Director of Music at Dunottar, commented: "To pass Grade 8 piano with distinction is a fine achievement for anyone, but to have four separate Grade 8 distinctions when aged just 17 is quite remarkable. We are all very proud of Chloe's achievements."