A pupil from Dunottar has been helping a local charity, whose art work will be exhibited at East Surrey College.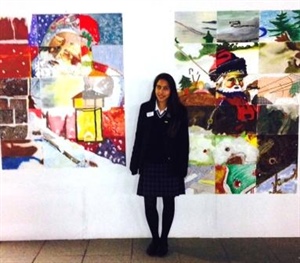 Over the past few months, Maya Supra-Wood, 12, has been doing voluntary work at Conquest Art, which provides art classes for people with disabilities. It aims to use art to help people regain confidence and find happiness through self-expression.
Maya has been helping with the charity's annual Christmas Art Project. This year's theme was to create a collaborative piece, with each member working on a single panel.
The Year 8 student said: "I enjoyed working with people, who were a range of ages and ability. I also learned a lot about developing my technique in art. It was really, really fun!"
Maya's father Dharmender Singh commented: "The charity also offers Dunottar girls the opportunity to volunteer their time to help their community as part of their Duke of Edinburgh scheme."
The work will be on display at East Surrey College from 28th November until 13th December.