A student from Dunottar came second in the Local final of FutureChef 2014 at Blenheim High School in Epsom last Friday.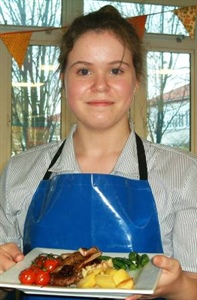 FutureChef is a nationwide culinary competition, which aims to inspire young people aged 12-16 to explore food and cooking as a life skill. It also informs them about entry routes to the hospitality industry.
Abigail Curry, 14, rose to the challenge of producing a meal for two in just ninety minutes. She prepared a mouth-watering roast rack of lamb served on parsnip puree, with saute potatoes, roast vine tomatoes and sugar snap peas, topped with a winter berry sauce. For dessert, she tempted the judges' taste buds with a homemade almond cake served with fresh raspberries and cream.
Head of Home Economics Jo Prothero commented: "Abigail greatly enjoyed the experience and she took away some positive feedback from the four chef judges. I'm very proud of her efforts. I also thoroughly enjoyed her slice of almond cake!"