The Spanish department left the classroom and flew its students to Spain over half term.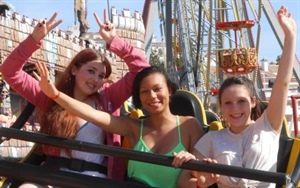 Dunottar took 45 students from Year 9 to Year 13 on a four-day visit to Andalucía to soak up the language and culture.
Head of Spanish Anna Vaughan commented: "The purpose of the visit was to give the girls the opportunity to practise their Spanish outside the classroom as well as to experience a different way of life. They were encouraged to speak as much Spanish as possible and became experts at ordering ice-cream!"
The pupils were exposed to all elements of the Spanish culture through a range of exciting activities. These included tapas tasting in the heart of Malaga, a flamenco dance lesson, and exploring the historic Moorish Alhambra Palace and the Generalife Gardens in Granada. They also visited the marina and aquarium in Benalmadena and enjoyed the Tivoli World theme park near Málaga.
"We had a wonderful trip," commented Miss Vaughan, "and the girls learnt so much about the Spanish culture. There was a perfect balance with educational and enjoyable activities."