On 22nd and 23rd March, pupils from Dunottar School in Reigate performed 'Oliver!' to a standing ovation.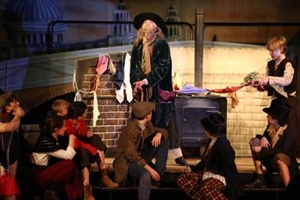 Directed by Tarani Jago and musical director Emily Pettet, pupils from Years 7-11 performed the musical, based upon the novel Oliver Twist by Charles Dickens, to a packed hall of pupils, parents and teachers.
With music and lyrics by Lionel Bart, the performance successfully recreated the pathos and drama of the orphan Oliver's life. The band of students and professional musicians delivered outstanding musical performances, which ranged from It's a Fine Life to Food Glorious Food.
There were convincing performances from all the cast, including Frankie, who played the innocent Oliver, and Ben, whose performance of the criminal Fagan rivalled that of Ron Moody in the original 1968 film.
Musical Director Emily Pettet said: "Many of our pupils are new to the stage this year, and we commend them for stepping outside their comfort zones and trying something new; they have learnt skills for life and made memories of a time that they will look back on fondly for years to come."
Director Tarani Jago added: "The whole school musical is an opportunity for the entire school community to come together and share this marvelous experience. I would like to thank the whole Dunottar community for their support and help."
Dunottar School's Headmaster, Mark Tottman, said: "Every individual member of the cast and crew can be hugely proud of what they achieved together–it was an outstanding performance. Sitting in the front row, I was worried I would have my pocket picked. This was literally a case of education with character!"