This term, students from Dunottar School in Reigate have been participating in United Learning's 'Access to Theatre – AcT' programme, designed to bring together teachers, students and industry practitioners and widen access to professional theatre.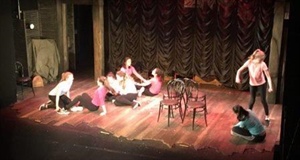 The United Learning project, a collaboration of twelve secondary schools from across the state and independent sectors, is designed to broaden the cultural experiences of young people.
This year, United Learning has partnered with 'Frantic Assembly', an internationally renowned theatre company that inspires innovative practice and unlocks creative potential. As a leading contemporary theatre company, it is known for productions such as 'Things I know to be True' and its acclaimed work on the National Theatre production of 'The Curious Incident of the Dog in the Night-Time'.
Performing Arts teachers from across United Learning came together in London and Manchester this January to train with acclaimed theatre company 'Frantic Assembly'. This was followed by in-school workshops for students as well as in-depth and continuing professional development for staff. It culminated in a collaborative showcase of events for students in London on April 21st (The Arts Theatre).
Hope said: "The best thing about the day was being able to perform the piece we had been working on in front of other schools and on a professional stage. I really loved the workshops in the morning–I especially enjoyed doing these with students from other schools!"
Dunottar's Director of Drama, Tarani Ariyanayagam, added: "The entire project has been such an enjoyable experience. I have been thrilled with our students' courage and tenacity in their approach to a new and a very physical style of theatre. The project was originally for key Stage 4 students, but we took along some additional Year 8s. As one of the youngest groups there, the pupils definitely held their own, and the feedback we received from everyone was extremely promising!"