Children from Dunottar School sing the national anthem live on pitch at London's Olympic Park alongside pupils from ten other United Learning schools.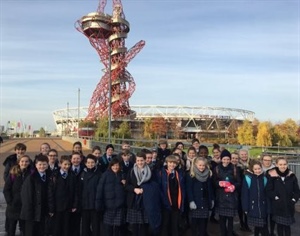 Yesterday, pupils from Dunottar School performed live on pitch to open the special Remembrance Day England vs. Australia match.
As part of United Learning, the national schools group which Dunottar School is part of, 400 children and their teachers performed the national anthem to kick off the RFL Four Nations rugby match at London's Olympic Park venue – including 33 from Dunottar School. The pupils sang in the CHANT Choir, run by music education provider Chant Productions, which has been working with United Learning schools to give young people a platform for live performances.
Aged 11-14, the young singers from Dunottar School enjoyed a number of workshops in school with Chant Productions' professional opera singers to prepare them for the Four Nations performance. They learnt the national anthem and a Brit Pop medley, along with stagecraft techniques to help build their confidence in performing live in front of such a large audience.
"The best moment for me was when we were singing on the rugby pitch," commented pupil Annabel, "because it was a once-in-a-lifetime opportunity."
Director of music Emily Pettet said, "We are so pleased that our students were able to take part in this event. We think that they will remember this experience for a very long time."
"It was dynamic and exciting!" added Deputy Head Marc Broughton. "The pupils have benefitted from being in the United Learning group to enjoy this unique experience."