Students and staff at a school in Reigate have raised nearly £200 for a local charity.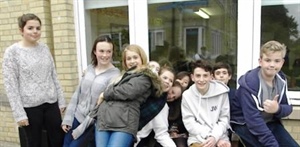 Dunottar pupils ditched their uniforms and donned their own clothes to raise £192 for The Children's Trust, the UK's leading charity for children with brain injury.
The charity aims to give all children with brain injury the opportunity to live the best life possible through its work with children and young people from across the UK, both from its specialist centre in Tadworth and in communities around the country.
A committee of pupils from all year groups voted to support The Children's Trust. The enterprising youngsters then invited volunteer worker Marjorie Harris to visit Dunottar to introduce the charity in an assembly.
Deputy Head Marc Broughton, who chairs the committee, commented: "This is an excellent charitable cause to start our year with. The Children's Trust do such wonderful work, and it was great to be able to raise money for them."