On Saturday evening, Dunottar Chamber Ensemble celebrated its 25th anniversary with a concert at Reigate Park Church.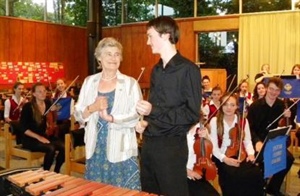 A delighted audience was thrilled with outstanding performances by top musicians from local schools, including Dunottar, St Bede's, Reigate, St. Joseph's, Reigate Grammar, Woldingham, Reigate Priory, Micklefield, and the Royal Alexandra and Albert School.
The gifted youngsters treated a packed hall to a range of famous pieces by Glazunov, Vivaldi, Mendelssohn, Mozart and Elgar.
Xylophone player William, accompanied by the orchestra, wowed his listeners with the first performance of a Concert Piece for Xylophone and Orchestra by composer Patsy Gritton, who attended the event.
Loraine Nagioff, founder, producer and director of Dunottar Chamber Ensemble, commented: "I usually prefer to conduct pieces by dead composers rather than living ones because I can do what I like with their works and I receive no complaints!  However, I love directing Patsy Gritton's music because she knows how to write a real tune.  We love her pieces and have done several of her works over the years."
There were also outstanding  solo performances by Ellen, who performed Concerto "L'inverno" from Vivaldi's the Four Seasons, and her older sister Claire, who  thrilled the audience with the Adagio from the  Clarinet Concerto in A  by Mozart.  Their youngest sister Grace and friend Celina exquisitely performed two movements from Vivaldi's Concerto in G minor for Two Cellos. 
Dunottar Chamber Ensemble was established in 1990 by Loraine Nagioff, who believed that pupils should have the opportunity to enjoy making music together.  Recognising that no single school would have the high numbers of talented teenagers necessary to create a large orchestra, she invited pupils from local schools to perform concertos and meet like-minded musicians.
The ensemble, which now has more than thirty members, has been on four European concert tours; accompanied one of the world's leading cellists, Raphael Wallfisch, in a performance of a Vivaldi concerto; and won many Outstanding Certificates at the Reigate and Redhill Music Festival.  This year, the ensemble's cello section won the Chairman's Cup for the Best Ensemble of the entire evening for the third year in a row.
Head teacher Rowena Cole, who attended the concert, said: This was a wonderful evening with a rich and varied programme made even more inspirational by the talent and youth of the musicians.  The fact that the chamber ensemble is celebrating its 25th anniversary is a testament to the passion and energy of its director, Loraine Nagioff.  We all look forward to seeing the continued success of this incredible collaboration over the coming years.
For further information about auditioning for Dunottar Chamber Ensemble, email info@dunottarschool.com for the attention of Miss Nagioff.  Auditions will be held on Friday 4th September.