Pupils from a School in Reigate have raised over £350 for charity by wearing their own clothes to school.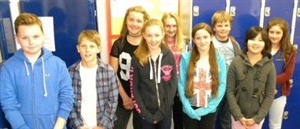 Students from Dunottar School have raised £355.80 for MacMillan Cancer Support, one of the largest and most recognised cancer charities in the UK.
The dress-down day was inspired by Jess Blake, Macmillan's Fundraising Manager for Surrey, who spoke to pupils and staff in assembly.
Jess said: "In Reigate and Banstead, 656 people are diagnosed with cancer a year while 5,385 people are living with cancer.  This number is expected to double by 2030.
"We're hoping to build a cancer support centre at East Surrey Hospital," she added.  "This will save local residents a potential 20-mile round trip to other Macmillan centres."
Students from Dunottar's charity committee have elected to donate all the proceeds from this term's fundraising activities to Macmillan Cancer Support.
Deputy Head, Marc Broughton, who chairs the committee, commented: "With the Macmillan support centre being built so close to the school, it was a project that we felt we must support.
"All of our pupils and a great number of our staff have benefitted from the services provided at East Surrey Hospital.  We want to support a project that will help a huge number of people who are coping either directly or indirectly with cancer."