Dunottar celebrates success.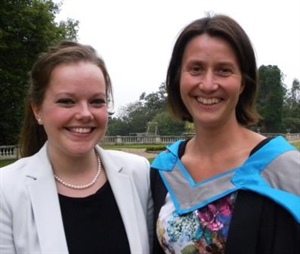 Overcoming adversity and succeeding against all odds was the theme of a prize giving evening at Dunottar School in Reigate on 11th September.
The guest speaker and former pupil Charlotte Hutchinson spoke to a packed hall of pupils, parents and staff about what can be achieved through sheer willpower.
Charlotte, who is completing a degree in Computer Science at the University of Kent, shared her story of being diagnosed with cancer.
She said: "During my time at Dunottar, I broke eight fingers, two arms and shattered a bone in my leg walking up stairs. I was taken to hospital twice in an ambulance, spent two months in a wheelchair and was diagnosed with cancer at the end of Year 8. I think you could say I definitely had to overcome adversity.
"I believe that the support, encouragement and friendship I experienced at Dunottar, I wouldn't have experienced at any other school. All the teachers went above and beyond the call of duty to help me," she added, "and to enable me to achieve my potential, despite my circumstances."
In 2012, Charlotte was invited to be an ambassador for the charity Children with Cancer. As well as providing support for children who suffer from this crippling disease, she actively fundraises and is a guest speaker at universities. She has also attended two events at the House of Lords to celebrate medical research.
Well on the way to becoming a celebrity, she was recently photographed by photographer Andrew Parsons for an article that will shortly be published in the Independent newspaper.
Her speech was warmly received by a rapt audience, who was there to celebrate the co-educational school's 100% pass rate with its A' Level results, with nearly a quarter of the grades awarded being A and A*. With the GCSE results, more than 95% of the students passed with grades A* – C. Nearly half the grades awarded were A or A*, and almost a third of the year group achieved eight or more top A and A* grades.
Guests of honour were Jon Coles, Chief Executive of United Learning, and the new Chair of the Local Governing Body of Dunottar, Dr Rosalind Given-Wilson.
Head Teacher Rowena Cole said: "The evening was a real celebration—not just of last year, but of the many years that Dunottar has nurtured and inspired its community.
"It was incredible to feel the support and energy which emanated from the audience and wonderful to hear our pupils deliver such self-assured speeches, particularly our new Year 9 boys who, with the girls in their form, set the scene for our coeducational future.
"The enthusiasm and excitement were palpable and, if this is anything to go by, Dunottar seems set for a very bright future indeed."