Seven students from Dunottar have won trophies for their achievements in lacrosse.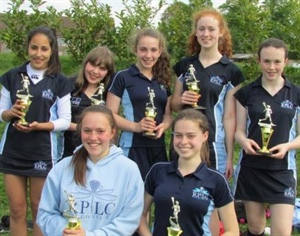 Marking the end of its tournament on May 4th, Reigate Priory's Lacrosse Club have announced its annual club awards for the 2013-14 season.
The Dunottar students all play for the club's Dragonflies U13 and U15 teams.
In the U13 category, Ellie Gadd won her trophy for Most Improved Player, Millie Johnson for Unsung Hero, Emma Longstaff for Players' Player and Maya Supra-Wood for Most Valuable Player.
In the U15 category, Georgie Miller won Players' Player, Connie Godden gained the trophy for Coach's Player while Megan John was Most Valuable Player.
Elaine Pieters, Head of PE at Dunottar School, commented: "The girls have been noted throughout the season for their consistent levels of play and hard work. They've done extremely well and we're all proud of their achievements. The Dragonflies are going from strength to strength; they have some very talented players from the local area, who are really enjoying the opportunity to improve and develop."